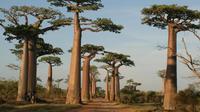 644 €
Baobab Avenue Express Tour from Antananarivo 5 Day Tour
CLASSIC BAOBAB AVENUE DEEP DISCOUNT TOUR - BEST PRICE IN THE ISLAND AND THE INTERNET!
Baobab Avenue Discount Tour 
Questions? Ask Us? Our guides have 30 years of experience with this trip and island!
Low Price Guarantee on this tour in Madagascar - Period. 
All guests are picked up at a hotel of their choice. This tour displays the most famous and sacred place in Madagascar, the Avenue Du Baobab "Baobab Avenue," and focuses on the western coastal zone of the island to see the most unique landscape in the country (and among the most bizarre in the world and emblematic in Africa.)
DAY 1: ANTANANARIVO – ANTSIRABE 
Departure to Antsirabe. On the road, panoramic view of the rice fields and also the tombs of the highlands of Madagascar.
Start from Antananarivo(Tana) - 169 KMS 3H30 ASPHALT
    
Hit the road towards the west of Madagascar along the famous National Route 7 until you reach Betafo. Crossing the small town of Ambatolampy, the third highest point of the island in the soaring Ankaratra hills, head to finally Antsirabe, the highland second capital of Madagascar replete with the best beef and the best cheeses, and some of the freshest air in Mada.
Night at H1 hotel
DAY 2 : ANTSIRABE – MORONDAVA
Breakfast at hotel
Leaving the hotel in the morning for joining Morondava. View of typical landscape with rice paddies.  Leave behind Route 7 to take Route 34 and enter a morphing, evolving change in the landscape up to the city of Miandrivazo, the granite massif giving way to sedimentary rocks. Cornered between the chain of Bongolava in the East and the plateau of Bemaraha on the West, this situation assures the status of the hottest city of Madagascar, with an annual average of 28°C. Thriving in this is a unique ecology different than anywhere else on the island. Stopped in Miandrivazo, then continuation to Morondava. Arrived at the end of the afternoon.
Night at Chez Maggie hotel
Morondava: 
The capital of the Sakalava tribe. A pleasant city with wide boulevards; a multicolored daily market, with its picturesque harbor of schooners and mangrove swamps, establishing a very particular and perfect ecosystem: The encounter of the sea and the river. 
DAY 3: MORONDAVA – KIRINDY - MORONDAVA
Breakfast at hotel
Departure early in the morning to join Kirindy reserve, it is situated at 2hours from the center in a dirty road. Visit of the reserve. Possibility to see the lemurs and baobab trees on the reserve. After a visit of 2hours, come back to Morondava. Visit of Baobab Lovers. Sunset in Baobab Avenue. Then, come back to the center.
Night at Chez Maggie hotel
DAY 4: MORONDAVA – ANTSIRABE
Breakfast at hotel
Come back to the highland via Miandrivazo.
Night at H1 hotel
DAY 5: ANTSIRABE – ANTANANARIVO
Breakfast at hotel
Road to the capital. Arrived in Antananarivo, city tour in the afternoon and visit to the Queen's Palace and the Rova, as well as the history of the city.
END OF OUR SERVICES