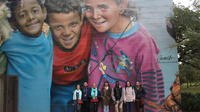 86 €
Art & Cultural Tour of São Paulo
Tourists typically visit the same areas and rarely get outside of the city center. This tour is designed to change that. Get off of the beaten track and explore the diverse nationalities, religions and cultures that live on the outskirts of the city.

From Italian and Lebanese immigrant communities to the largest outdoor urban art museum in the world, this tour has it all, including great food and drinks!
Let's meet at the cafe inside of the Immigration Museum, then continue on to Juventus Stadium, a traditional Italian club and where Pele, the Brazilian soccer star, made his greatest goal. As there is no video record, we will replay the moment as the group learns to play football, one of the country's passions.

Then we will get to know the Lebanese culture in the most delicious way possible: through the food!
In a famous esfiha shop, we will taste various Arabic delicacies. Then we will go to another neighborhood to see the Temple of Solomon, the World Headquarters for the Kingdom of God Church and the largest religious space in the country. The site is very restricted and is evangelical, one of the biggest religions in the country.

For relaxation, we'll then take a pleasant stroll through the park that was once one of the largest prisons in Latin America, Carandiru. The environment was once dark and heavy, now it brings together different types of people who play sports, exercise and participate in various cultural activities.

Speaking of culture, we will take you to see some famous graffiti in the world's first open air museum which is interweaved with the urban landscape. To finish the tour, we will travel to northeastern Brazil, through a delicious surprise in a trendy restaurant in the northeastern part of the city!

Note: Our itinerary is subject to last minute changes.
Suggestion for before the tour: Visit to the Immigration Museum and learn a little about the history of some of São Paulo's nationalities. Entrance fee is R$ 6 (not included in this tour). You can also eat something in the Coffee Museum.