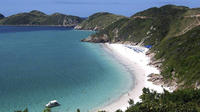 907 €
Arraial do Cabo (the Brazilian Caribbean)
Arraial do Cabo is one of cariocas (Rio Natives) favorite places. The perfect refuge for anyone who wants to be in contact with nature and admire the beauty of marine life. In total there are about three hours on board a boat, with a special stop at the city of Cabo Frio on the way back. Feel free to ask us about professional diving, which is really big in the region.
This experience begins with a Find Your Rio host and driver, who pick up the visitor from a designated location. After a car journey of approximately 3 hours, the experience begins in the city of Arraial do Cabo. Main stops: Prainha, Gruta Azul and Ilha do Farol Beach. We leave early and punctually to beat the queues and avoid stops where a lot of people are boarding.

Arraial really is famous so the sooner you get there, the more you can take advantage of it. Bring whatever food and drink you'd like to bring on board, where water and ice will be available for free. On the way back to Rio de Janeiro, we will stop in Cabo Frio for lunch. The price of this meal is not included, but the host will be on hand to give you options to suit your needs. Visit the Forte Beach and Rua dos Biquinis (a paradise for bathing suits!) on the return journey.

Even taking into account early departure, you can expect a lot of people in the city, especially on local holidays and in the months of December, January and February. It's rare that the sea in Arraial isn't crystal-clear, but occasionally the water can be choppy meaning that there are no departures.

Therefore, boat experiences are subject to cancellation without prior notice as they are dependent on weather conditions. However, don't worry if this does happen, as we will refund you for the amount paid.  If required, we also have options for bigger and/or more luxurious boats. Consult us for more details.