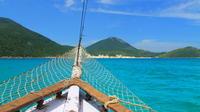 111 €
Arraial do Cabo Day Trip from Rio de Janeiro: The Brazilian Caribe
Arraial do Cabo is considered one of the most beautiful and paradisiacal cities of Brazil. A paradise for lovers of diving, with crystal clear and calm sea waters, a tour that cannot be out the list of those who come to Rio de Janeiro!
Escape hustle and bustle of Rio de Janeiro and get to know the beautiful 'Brazilian Caribe', the beautiful Arraial do Cabo city, coming from Rio de Janeiro with all comfort, transportation, lunch, snorkeling and visits to all the major tourist spots of this beautiful city of crystal clear waters .
Arraial do Cabo, also known as 'Brazilian Caribbean', 'Dive Paradise', 'The Atlantic Paradise', is a coastal town in the Lakes Region of Rio de Janeiro, one of the most beautiful Brazilian cities with white sand, salt marsh vegetation, beautiful lakes and crystal clear sea beaches as the Caribe, with cliffs and rock formations that act as nice belvederes to enjoy this wonderful city.
A must for anyone who wants to know all the beauties of Rio de Janeiro.
After boarding, in comfortable transport as van, minibus or bus, we head to 'Costa do Sol' region. On the way we pass through beautiful landscapes and we will see some cities such as Araruama, Sao Pedro D'aldeia, Cabo Frio and some others, have a quick stop for coffee, water or even go to the toilet.
In a few minutes we arrive at the famous ''Dive Capital'', Arraial do Cabo city where we will make a city tour and show why Arraial do Cabo is so famous worldwide and grows day by day.
Already knowing the city, we will now visit the other side, the beautiful sea the best of Arraial do Cabo. Then we will, on the boat, know the coast of Arraial do Cabo, where we will go to the main points of the city like: Gruta Azul, several Islands, Pontal do Atalaia, Praia do Forno, Praia do Farol, The Gorilas's Rock and several others points with stops for diving, after the sloop ride, we lunch in a delicious local restaurant.
After lunch we will have some free time and then follow back to Rio de Janeiro, with a quick stop, for a coffee, water or go to the toilet. And finally we'll soon be back where we boarded.