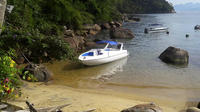 864 €
Angra dos Reis and Ilha Grande
Natural splendor and a chance to breathe in the air of tropical greenery. Angra dos Reis is a place to chill out, enjoy the sea, and forget about the hustle and bustle of the big city. Of the many islands here, the most famous is Ilha Grande.
On this tour we will go around more than half of the island on a quick boat, leaving enough time to take a dip in the sea, walk along the sand, eat authentic local cuisine, and get to know the Vila de Abraão, a place full of regional artisans.
This truly is a private experience. We set off early to Ilha's most famous places to be there before they get too busy. As they say, the early bird gets the worm! The Find Your Rio host will arrive at the meeting point in Rio de Janeiro to pick you up on time. Make sure you've got a sandwich ready to eat with a coffee before setting off, or to have in the car. Bring whatever fruit you would like, some drinks (ice available on the boat), or other food; alternatively buy what you need in the shops in front of the quay.

From there, you'll set off on a journey of approximately two hours to the city of Conceição de Jacareí. Upon arrival, there'll be a quick snack waiting for you to get the tour started. There are 6 places included on the tour: Lagoa Verde, Lagoa Azul, Saco do Céu, Praia do Amor, Praia da Camiranga and Vila do Abraão. Stops will be flexible according to your needs. If you want to spend more or less time in a particular place, no problem at all! The boat is there whenever you need it.

The boat's captain will give you some options for lunch; ranging from simple restaurants to the most sought-after eateries, although the general feel of all of these places in Ilha is rustic. For this experience you need to be someone who enjoys being on a boat, as the total tour is approximately 7 hours in length.

The majority of the time the sea is calm, with natural pools consisting of crystal-clear waters, and a plethora of marine life. Bear in mind that boat experiences are subject to cancellation without prior notice as they are dependent on weather conditions. However, don't worry if this does happen, as we will refund you for the amount paid.  If required, we also have options for bigger and/or more luxurious boats. Consult us for more details.