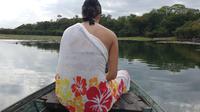 103 €
Alter do Chão Amorim Adventure
The Amorim Adventure Tours in Alter do Chão takes place in the Amorim region, another fantastic wealth of the Tapajós River that very few people knows about it, including the locals of Alter do Chão… For this reason, Selvagem Tours created our exclusive and magical "Wild tours in the amazon – Amorim".
We customize our unforgettable tour as follows: We leave Alter do Chao southbound in the Tapajos river passing through the Jacundá Lake stopping at the (1) Mureta Lake to walk on the beach and swim directly into the clean waters of the Tapajos River.
We will visit the (2) Jurucuri Lake and go to the historic (3) Pindobal Beach where you will learn about the rubber history in the Amazons. We will continue enjoying the beautiful beaches of (4) Cajutuba with another stop in (5) Aramanai beach to take pictures and enjoy a refreshing swim. We´ll proceed to (6) Santo Domingo and (7) Maguari Beach with opportunities for beautiful photos.
We´ll continue to the crystal clear waters of (8) FLONA – Jamaraquá where we will make a delicious picnic with fresh fruit "watermelon, pineapple, banana, passion fruit, orange, apple and coconut."
We´ll cross the wide Tapajos River into the best part of our adventure the (9) Amorim region. Your eyes and mind will be fascinated with the natural beauty of this magical paradise. After navigating a few kilometers we´ll change to a smaller local native vessel due to low water levels and narrow channels.
Here our adventure take a new dimension in our "Wild tours in Alter do Chao"… We´ll go (10) upstream in a small and narrow canal passing by beautiful Igapós "swamps" small remote communities and a lot of nature for several kilometers. Then we´ll have a lot of adrenaline dodging many obstacles like tree trunks passing centimeters from our heads, dense forests brushing our body and encountering other vessels in extremely sharp curves where only one vessel can pass at a time.
The return is double of the adrenaline and excitement for the fact that we are navigating downstream with the increasing current speed. We will return to Alter do Chão with a big smile on our lips and a delicious feeling in our hearts.
(11) Optional This tour is even more exciting and memorable if you choose to camp on the Amorim beach to fish, make a campfire and enjoy a beautiful night sky before returning to Alter do Chão the next
Note – Due to the natural change of the water level, attractions and locality can be changed "we will always maintain the quality and standard of all tours"
Selvagem Tours… We are wild for you to experience different and delicious feelings…