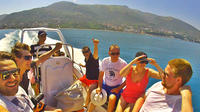 98 €
Adventure by Speed Boat
Experience the Albanian Coast and swim at the crystal bays.
Our speed boat will cruise through and past Karaburun Peninsula, Sazan Island and the Vlora beach's coastline. So get ready to enjoy the Jonian Sea by flying through the waters at high-speeds.
Our tour begins at 08:30 Am and head to the city of Vlorë. Known also as Valona, this historical city is located in southwestern Albania where the Adriatic and Ionian Seas meet. Vlorë is situated as the gateway to the Albanian Riviera, the gem of Albanian Tourism, and sits at the head of the Karaburun Peninsula and Sazan Island. We spend time here at the sea so you can get some sun while enjoying the sandy and rocky beaches and the scenic mountains nearby. We visit a cold water spring which is connected to the salty sea. Vlorë holds a significant place in Albanian history as this is where the Albanian Declaration of Independence was signed on 28 November, 1912. Now its time to have our speed boat adventure. Since the time of Julius Caesar until the Second World War around the Bay of Vlora coast have developed a number of naval battles, the consequence of which has been several shipwrecks. A part of relics amphorae underwater as other objects are still under water. Our boat will enter at the Pirates Cave. After the speed boat adventure we will enjoy the local food and get back to Tirana.