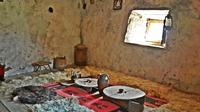 550 €
8 Days Local Living in the Albanian Alps
Live like locals, learn traditional recipes and eat delicious Valbona cuisine, ride the horse from Valbona to Theth, visit the old water mills and taste the delicious local wines and raki, explore the waterfall of Valbona and Theth. Enjoy the Albanian culture and the hospitality. Be local.
Experience life the local way and you'll experience the northern part that most tourists miss. This trip offers plenty of opportunity to get your hands dirty in the kitchen, as you'll learn to prepare and enjoy this picturesque region's culinary and tasting the delicious local wines and raki. Enjoy a hands-on cooking with your hosts, using fresh ingredients from the farm.
This is how your experience will look like:
Day 1 - Tirana
Arrive at any time check into your hotel. Depending on your arrival time you may want to enjoy a stroll around the city and start to absorb the atmosphere of this amazing country.
Day 2-4 - Valbona
Morning orientations in Tirana, then transfer by minibus and boat to Valbona. During the trip you will take the boat to the lake of Koman. Enjoy the boat trip to cruise the waters between Koman and Fierze. Your accommodation is a rural northern alp guesthouse in a country setting with beautiful valley views. The property has a small farm and many outdoor areas where you can relax, including a terrace. Your GL is a very keen producer of everything local and organic and loves showing visitors around the region of his ancestors.
Day 5-7 - Theth
Morning in Valbona then you will hike the classic pass of the Albanian northern Alps that for centuries linked the two most known valleys of the area, Valbona and Theth. Mules will carry the luggage to the next house. Several springs of water during the way will make the stops pleasant and refreshing. Free days for hiking and exploring the area, lounging at the guesthouse. Walk to the waterfall and springs. Enjoy a hands-on cooking class with your hosts, using fresh ingredients from the neighbors and the farm.
Day 8 - Tirana
Morning transfer from Theth to Tirana. Depart any time after 1pm from Tirana to airport, as the airplane departure.