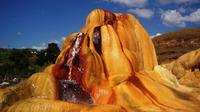 188 €
2-Day Private Tour to Ampefy from Antananarivo
The small village of Ampefy is located west of Antananarivo in the centre of Madagascar. The area of Ampefy is characterised by volcanic landscape and has been classified as an ecotourism destination by Madagascar National Parks. Volcanoes dating back two million years ago and over 40 lakes of volcanic origin are scattered in a region of 400 Square km. You will stay in Ampefy, where from you can have a beautiful experience of the region. Your tour will be covering Antananarivo – Ampefy – Antananarivo (By car) and including private reserve of lemurs.       
Day 1: Antananarivo - Ampefy
Meet in the reception of your hotel between 8am and 8.30 am before departing to Ampefy which is located at 120km from the capital, in the rural commune of Itasy in Soavinandrina district and mostly the geographical center of Madagascar. It is a village perched on the edge of the Lily, which feeds a small crater lake. Two of the most famous sites you will get to visit on this tour are 'The Geyser' and 'The Lily Waterfall'. Many interesting sites are to be found in this region like the lake basin and its surrounding areas. You will discover also a volcanic landscape in this tour.

Around 9.30 am you will be visiting Lemur Park which is a private reserve located at 25km from the capital, close to Katsaoka river and between Fenoarivo and Imerintsiatosika. You will find birds, medicinal plants, reptiles and mostly Lemurs (Black and white ruffed Lemur, Common brown Lemur, Coquerel's Sifaka, Crowned Sifaka, Eastern Lesser Bamboo Lemur, Mongoose Lemur and Ring Tailed Lemur). After it you will continue to Ampefy. 
You will arrive in Ampefy at approx 12.30pm, and have the most delicious lunch at Eucalyptus hotel 
Around 2pm at afternoon relax at the famous waterfall - La Chute de La Lilly. 26m high, this waterfall comes from Itasy lake formed by ancient crater. The place was once called Antafofo. Its name was changed when a settler came to live at the scene and lost her daughter named Lily in the waterfall. This waterfall is has beautiful landscape not to be missed in while your stay in Madagascar.
Back to the hotel at the end of the afternoon in Ampefy.

Overnight: Eucalyptus hotel, Ampefy
Day 2: Ampefy - Antananarivo
After the breakfast the driver will pick you up and take you to marvelous place known as 'Geyser' which is located  22km from Ampefy, the region also includes Ampefy geysers. Geysers of Amparaky come from the artesian wells phenomenon, not volcanic geysers. The difference is essentially the fact that the expelled water is not very hot. You can hike around to discover the volcanic landscape of the region which is the prolific fruit trees. 
You will then enjoy lunch at the La Terasse or Chez Jacky Hotel restaurant
At 3.00 pm you will travel back to Antananarivo and will be dropped in your hotel at the end of afternoon.